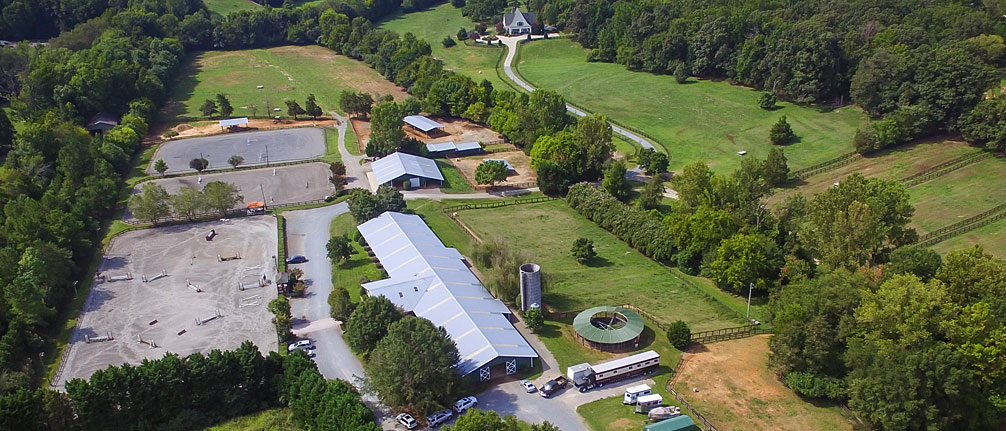 WELCOME
Cedarhill today encompasses 40 acres of fields, streams, rings, barns, and paddocks. Home to over 40 horses including boarders, school horses, and horses in training, there is always something going on!
Over 50 students ride weekly year round in our program as well as our boarders. During the summer we have a big camp program with over 60 attendees.
Three trailers transport our horses from one day local horse shows all the way to the Washington International, Devon, National Horse Show, and other fine AA shows.
Four locally sanctioned horse shows are hosted by Cedarhill Farm each year- a great opportunity to show without having to travel.
Our staff is great. Ricardo and Consuelo with their family have been with us for over 12 years. They live on site in our barn apartment and help with the management of daily operations. Helping them is Candido, Carlos and Samuel. As well as maintaining the feeding, turning in and out, and stall cleaning, they also do most of the individual horse care.
Our riding instructors and teaching assistants are well qualified. Caroline Foto recently earned her USHJA Trainer Certification, I am applying next year, with Taylor Yeaton looking into it. All together we have brought along many from a hesitant timid student to a confident, well educated rider , competing at the national level. Our assistants teach our riders the proper methods of grooming and preparing their mount for their lesson, as well as properly cooling out and returning their mount. They keep our lessons running smoothly.
Two to four foals are born every year at our farm out of our retired top show mares, keeping us busy with youngsters.
Caroline Foto keep our horses sharp at home in a great training program, riding many of Cedarhill owned and our client's horses  at both the local and A horse shows. With her help, as well as the help of our friend and fellow trainer Daniel Geitner our horses get the best ride possible. Prepping the horses make my job easy when I am coaching our riders at the A shows. Our system has created many champions at all the top show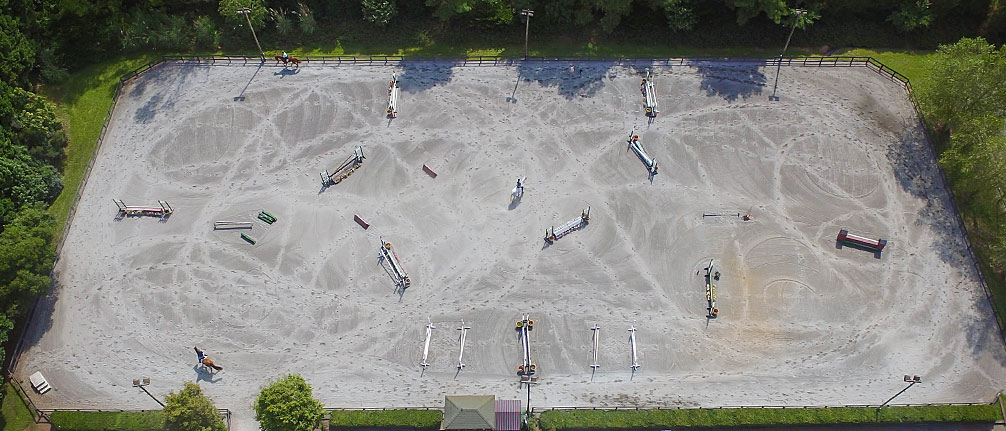 LESSONS
 Cedarhill Farm offers both group and private instruction focusing on Hunters, Jumpers, and Equitation.  We at Cedarhill feel it is important for all riders to have an understanding of horsemanship.  Our group lessons are 1 hour of saddle time and privates are 30 minutes.  For our beginner riders there is an additional 30 minutes of instruction before and after the lesson for teaching grooming, tacking, and general horse care.  The grooming, tacking, and horse care is ALWAYS the responsibility of the rider but supervision is only provided at the lower levels.
Our group lessons have no more than 4 riders that are of similar skill level.  Riding in a group provides more saddle time as well as the opportunity to learn by example. We feel it is very important to group by level rather than age to allow the best opportunity for progress.  Private lessons are beneficial when needing to work through a trouble spot or for more advanced riders needing to fine-tune their overall ride.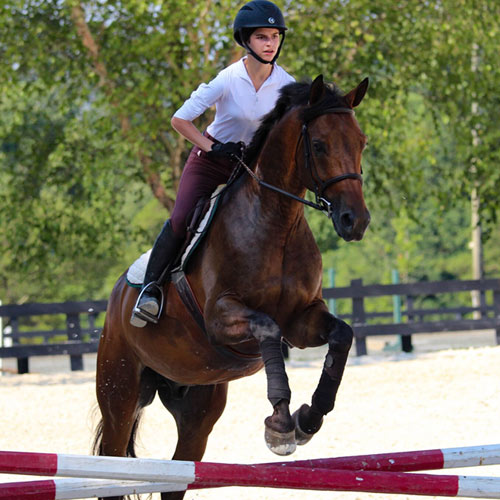 We have over 20 capable school horses and ponies of different levels to ensure our students have a safe and educational ride. Three all weather footing rings, complete with jumps, cavalletti, cones, and other appropriate teaching materials provide the excellent environment necessary for quality instruction.
What you Need:
Cedarhill provides all grooming equipment and tack.  We also have helmets available upon request.  Please wear long pants and a boot with a low heel.   Please bring your registration and release form to first lesson.
Please allow two hours for your child to fully enjoy his or her lesson — 30  minutes to catch and tack the horse, one hour in the saddle and another 30 minutes for un-tacking, grooming, putting away  equipment and returning their horses to the paddock or stall).
Session Lessons: 
A session is 1 month.  Session riders have priority scheduling.  You commit to same day and time and prepay by the 1st for a discounted rate of $70/lesson.  There are no makeups or rescheduling.  If you wish to change days, time, or discontinue please inform your instructor and Brian (bookkeeper) through email.  . His email address is Brian@Cedarhillfarminc.com  We have a late charge of $25. for lesson payments paid after the 1st, and a $60 late charge for lessons paid after the 10th
A la Carte Lessons:
If you do not want to commit to same day and time or would like the option of rescheduling you can pay the non-discounted rate of $85.  Please note that we cannot guarantee availability as our session riders take preference.
Private Lessons:
Private lessons are $95.  Limited availability and recommended for beginners just starting out, advanced riders, or riders needing to address a specific issue.
 Bad Weather:
On the rare occasions we do not ride due to inclement weather Cedarhill instructors take the opportunity to focus on horsemanship.  How to treat injuries, wrap legs, why we use different equipment on different horses, course design, etc.  There is much more to horses than just riding.  Our goal is to provide your child with a well rounded equestrian education.
If there is severe weather or ice we will call and cancel.  Please do not assume.