Leg Up Equestrian Summer Camps
The Complete Horsemanship Experience!"   Campers "adopt their own horse" for the week and care for over 20 horses in our barn! Daily riding lessons, mounted pony games, trail rides, grooming, bathing & "Paint your Pony" contest.. Campers show off their riding skills in our end of the week "Fun" Horse Show with real show ribbons (parents invited!), Drinks and snacks provided.
Mon.-Fri. 8:00 AM – 2:00 PM. [optional after camp prog. available).
Learn, Grow, Achieve!
Leg Up Equestrian Camp is a place for riders of all ages and abilities to feel safe while building lasting friendships with both horse and fellow riders. Using our levels basedcurriculum, campers learn the fundamentals of English Riding as they progress throughout the week. We offer two full riding sessions each day, and end our week with a real mini-horse show (parents invited!) in which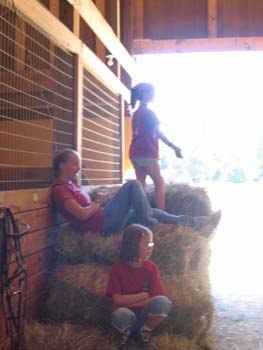 campers earn ribbons for their achievement.
Games on Horseback:
Games are competitive and non-competitive activities on horseback that engage both horse and rider as a team. Used effectively, games can be used to teach riding and riding related skills which emphasizes teamwork, speed, accuracy, and fun! Games are all about balance and coordination and control — riding skills that you may not even realize you're using as you concentrate on grabbing that flag, making that hand-off or navigating your horse through an obstacle.
Grooming, Horsemanship, & Character 
Campers learn the fundamentals of properly grooming and caring for their horses. At Leg Up we believe Horsemanship goes beyond what one does when in the saddle. The mark of a good horseman is demonstrated by our actions – the way we interact, care for, and show respect. Putting the horse's 'needs' before our personal 'desires' is one way horses build character in each of us.